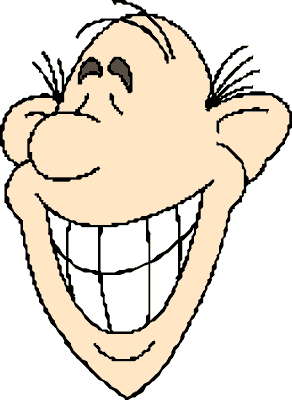 Jewish Dog Joke...
A man walks into shul with a dog. The shammas comes up to him and says, "Pardon me, this is a House of Worship, you can't bring your dog in here."
"What do you mean," says the man, "this is a Jewish dog. Look." And the shammas looks carefully and sees, that in the same way that a St. Bernard carries a brandy barrel round its neck, this dog has a tallis bag round its neck.
"Rover," says the man, "kipa!". "Woof!" says the dog, stands on his hind legs, opens the tallis bag, takes out a kipa and puts it on his head.
"Rover," says the man, "tallis!". "Woof!" says the dog, stands on his hind legs, opens the tallis bag, takes out a tallis and puts it round his neck.
"Rover," says the man, "daven!" "Woof!" says the dog, stands on his hind legs, opens the tallis bag, takes out a siddur and starts to daven.
"That's fantastic," says the shammas, "absolutely amazing, incredible! You should take him to Hollywood, get him on television, get him in the movies, he could make millions of dollars!!
"You speak to him," says the man, "he wants to be a doctor."
* * *
Send Us A Joke!!
* * *
Government Bird Study: Car vs Truck?
There is a new very important government study on just how intelligent crows are.
The state of California found about 200 dead crows on its highways, and there was concern that they may have died from Avian Flu. They had a Bird Pathologist examined the remains of all the crows, and he confirmed the problem was definitely NOT Avian Flu, to everyone's relief.
However, he determined that 98% of the crows had been killed by impact with trucks, and only 2% were killed by car impact.
The State of California then hired an Ornithological Behaviorist to determine the reason for the disproportionate percentages for truck versus car kills. The Ornithological Behaviorist determined the cause in short order.
When crows eat road kill, they always set-up a look-out Crow in a nearby tree to warn of impending danger. His conclusion was that the lookout crow would say "Cahr," but he could not say "Truck."
The funny part is that this study only cost California taxpayers a mere $1,850,000.
* * *
Send Us A Joke!!
* * *
Finding a Job in America...
John Smith started the day early having set his alarm clock (MADE IN JAPAN ) for 6 am ..
While his coffeepot (MADE IN CHINA) was perking, he shaved with his electric razor (MADE IN HONG KONG)
He put on a dress shirt (MADE IN SRI LANKA), designer jeans (MADE IN SINGAPORE) and tennis shoes (MADE IN KOREA)
After cooking his breakfast in his new electric skillet (MADE IN INDIA) he sat down with his calculator (MADE IN MEXICO) to see how much he could spend today. After setting his watch (MADE IN TAIWAN ) to the radio (MADE IN INDIA ) he got in his car (MADE IN GERMANY ) filled it with GAS (from Saudi Arabia ) and continued his search for a good paying AMERICAN JOB.
At the end of yet another discouraging and fruitless day checking his Computer ( made in MALAYSIA ), John decided to relax for a while. He put on his sandals (MADE IN BRAZIL ), poured himself a glass of wine (MADE IN FRANCE ) and turned on his TV (MADE IN INDONESIA ), and then wondered why he can't find a good paying job in AMERICA
* * *
Send Us A Joke!!
* * *
the Jewish Tailor
Old Avrahom was a poor tailor whose shop was next door to an upmarket French restaurant. Every day at lunch time, Avrahom would go out the back of his shop and eat his black bread and herring while smelling the wonderful odors coming from the restaurant's kitchen. But one day, Avrahom was surprised to receive an invoice from the restaurant for 'enjoyment of food'. So he went to the restaurant to point out that he had not bought anything from them.
The manager said, "You're enjoying our food, so you should pay us for it."
Avrahom refused to pay and the restaurant sued him.
At the hearing, the judge asked the restaurant to present their side of the case. The manager said, "Every day, this man comes and sits outside our kitchen and smells our food while eating his. It is clear that we are providing added value to his poor food and we deserve to be recompensed for it."
The judge turns to Avrahom and said, "What do you have to say to that?"
Avrahom didn't say anything but stuck his hand in his pocket and rattled the few coins he had inside.
The judge asked him, "What is the meaning of that?"
Avrahom replied, "I'm paying for the smell of his food with the sound of my money."
* * *
Send Us A Joke!!
* * *
La Computer or El Computer?
A SPANISH Teacher was explaining to her class that in Spanish, unlike English, nouns are designated as either masculine or feminine.
'House' for instance, is feminine: 'la casa.' 'Pencil,' however, is masculine: 'el lapiz.'
A student asked, 'What gender is 'computer'?' Instead of giving the answer, the teacher split the class into two groups, male and female, and asked them to decide for themselves whether computer' should be a masculine or a feminine noun. Each group was asked to give four reasons for its recommendation.
The men's group decided that 'computer' should definitely be of the feminine gender ('la computadora'), because:
1. No one but their creator understands their internal logic;
2. The native language they use to communicate with other computers is incomprehensible to everyone else;
3. Even the smallest mistakes are stored in long term memory for possible later retrieval; and
4. As soon as you make a commitment to one, you find yourself spending half your paycheck on accessories for it.
(THIS GETS BETTER!)
The women's group, however, concluded that computers should be Masculine ('el computador'), because:
1. In order to do anything with them, you have to turn them on;
2. They have a lot of data but still can't think for themselves;
3. They are supposed to help you solve problems, but half the time they ARE the problem; and
4. As soon as you commit to one, you realize that if you had waited a little longer, you could have gotten a superior model.
The women won.
* * *
Send Us A Joke!!
* * *
How is Norma doing??
A sweet voice telephoned the Hospital. She timidly asked, "Is it possible to speak to someone Who can tell me how a patient is doing?"
The operator said, "I'll be glad to help, dear. What's the name and room number of the patient?"
The sweet voice in her weak, tremulous voice said, "Norma Goldstein, Room 302."
The operator replied, "Let me put you on hold while I check with the nurse's station for that room."
After a few minutes, the operator returned to the phone and said, "I have good news. Her nurse just told me that Norma is doing well. Her blood pressure is fine; her blood work just came back normal, and her physician, Dr. Cohen, has scheduled her to be discharged tomorrow."
The sweet voice said, "Thank you. That's wonderful. I was so worried. G-d bless you for the good news."
The operator replied, "You're more than welcome. Is Norma your daughter?"
The sweet voice said, "No, I'm Norma in Room 302. No one tells me gornisht."
* * *
Send Us A Joke!!
* * *
Did I read that sign correctly?
TOILET OUT OF ORDER. PLEASE USE FLOOR BELOW
In a Laundromat:
AUTOMATIC WASHING MACHINES: PLEASE REMOVE ALL YOUR CLOTHES WHEN THE LIGHT GOES OUT
In a London department store:
BARGAIN BASEMENT UPSTAIRS
In an office:
WOULD THE PERSON WHO TOOK THE STEP LADDER YESTERDAY PLEASE BRING IT BACK OR FURTHER STEPS WILL BE TAKEN
In an office:
AFTER TEA BREAK STAFF SHOULD EMPTY THE TEAPOT AND STAND UPSIDE DOWN ON THE DRAINING BOARD
Outside a secondhand shop:
WE EXCHANGE ANYTHING BICYCLES, WASHING MACHINES, ETC. WHY NOT BRING YOUR WIFE ALONG AND GET A WONDERFUL BARGAIN?
Notice in health food shop window:
CLOSED DUE TO ILLNESS
Spotted in a safari park:(I sure hope so)
ELEPHANTS PLEASE STAY IN YOUR CAR
Seen during a conference:
FOR ANYONE WHO HAS CHILDREN AND DOESN'T KNOW IT, THERE IS A DAY CARE ON THE 1ST FLOOR
Notice in a farmer's field:
THE FARMER ALLOWS WALKERS TO CROSS THE FIELD FOR FREE, BUT THE BULL CHARGES.
Message on a leaflet:
IF YOU CANNOT READ, THIS LEAFLET WILL TELL YOU HOW TO GET LESSONS
On a repair shop door:
WE CAN REPAIR ANYTHING. (PLEASE KNOCK HARD ON THE DOOR THE BELL DOESN'T WORK)
Proofreading is a dying art, wouldn't you say?
Man Kills Self Before Shooting Wife and Daughter
Something Went Wrong in Jet Crash, Expert Says
Really? Ya think?
Police Begin Campaign to Run Down Jaywalkers
Now that's taking things a bit far!
Panda Mating Fails; Veterinarian Takes Over
What a guy!
Miners Refuse to Work after Death
Nogoodfornothing' lazy soand so's!
Juvenile Court to Try Shooting Defendant
See if that works any better than a fair trial!
War Dims Hope for Peace
I can see where it might have that effect!
If Strike Isn't Settled Quickly, It May Last Awhile
Ya think?!
Cold Wave Linked to Temperatures
Who would have thought!
Enfield ( London ) Couple Slain; Police Suspect Homicide
They may be on to something!
Red Tape Holds Up New Bridges
You mean there's something stronger than duct tape?
Man Struck By Lightning: Faces Battery Charge
He probably IS the battery charge!
New Study of Obesity Looks for Larger Test Group
Weren't they fat enough?!
Astronaut Takes Blame for Gas in Spacecraft
That's what he gets for eating those beans!
Kids Make Nutritious Snacks
Do they taste like chicken?
Local High School Dropouts Cut in Half
Chainsaw Massacre all over again!
Hospitals are Sued by 7 Foot Doctors
Boy, are they so tall!
And the winner is....
Typhoon Rips Through Cemetery; Hundreds Dead
Did I read that right?
* * *
Send Us A Joke!!
* * *
~~~~~~~

from the May 2013 Edition of the Jewish Magazine

Material and Opinions in all Jewish Magazine articles are the sole responsibility of the author; the Jewish Magazine accepts no liability for material used.